Motorola licenses standard-essential FRAND patents to Apple in Germany
47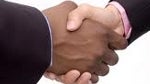 Late Monday, a filing was made with the United States District Court for the Southern District of California, that confirmed the licensing of
Motorola Mobility standard-essential patents to Apple
in Germany. The agreement covers an unannounced number of patents and the royalty rate is still up in the air, although it will be based on FRAND principles. Unless Apple and Motorola Mobility come to an agreement on percentages, the German court where the two have battled will have to reach a licensing figure. Motorola has been asking for a royalty rate of 2.25% of the retail price for devices using the patents covered in the agreement, which means that the final rate could come in a bit lower than that figure.
"The Higher Regional Court of Karlsruhe has not made a final determination regarding whether Apple's FRAND offer is valid, an allegation that has been mooted by Motorola's acceptance of the offer after Apple admitted liability for past damages for infringement"-excerpt from Motorola Mobility German court filing
Following this agreement, Motorola Mobility will have to turn to its non standard-essential patents to use in German court against Apple. Right now, it has one such patent,
covering push email notification
, in litigation against the Cupertino based firm in the Country. What is interesting is a filing made by Apple earlier this month which stated that Motorola had no choice but to enter into this agreement with Apple. Apple's second amended antisuit complaint against Motorola Mobility dated August 3, 2012 stated that Motorola Mobility
had an obligation to accept Apple's terms
to license these FRAND patents to them or else be in violation of German antitrust law according to the Higher Regional Court of Karlsruhest. But Apple's filing nearly a month ago, made no mention of Motorola Mobility's acceptance of the terms. Motorola answered the above filing on Monday by confirming the deal with Apple and adding that, as we knew, terms of the license will need to be worked out, most likely through litigation.
With Motorola Mobility being investigated by the FTC and the European Commission for
allegedly abusing standard-essential patents agaist Apple and Microsoft
, and with the prospect of facing a violation of German antitrust law, the company took the only feasible option it had left. Now, its only hope in Germany for its standard-essential IP portfolio is to work out a decent royalty package with Apple.
source:
FOSSPatents
Recommended Stories