Motorola is Google's defense against Samsung's Android dominance
99+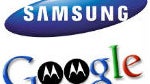 Samsung is a huge success. The company was responsible for almost 40% of the entire smartphone market for 2012, and a large portion of that number is from Samsung's Android devices. It's hard to ignore Samsung, and it looks like Google can't ignore it either. A new report says that Google is worried about Samsung's dominance and could be using Motorola as defense against Samsung controlling the ecosystem too much.
According to the
Wall Street Journal
, Google executives have had discussions about Samsung's dominance over the past year. Android head Andy Rubin praised the company's success, but also said that Samsung could become a threat. Rubin apparently went on to say that
Google used the buyout of Motorola as a "hedge" against such a threat
.
The biggest concern seems to be that Samsung is so far ahead of its nearest competitor within the Android ecosystem. According to IDC,
Samsung makes up about 40% of the Android ecosystem, and the next closest manufacturer is Huawei at just 6.6%
. And, in the world of Android tablets, Samsung has been making strides, and even outselling the Amazon Kindle Fire at the end of last year.
The worry is that Samsung could use its dominant position to fork Android, just as Amazon did, and take a large portion of Android users along with it (aka a large portion of Google's ad revenue from various apps). Given Samsung's position in the market, it seems reasonable to be careful, but forking Android would pose a number of issues that we're not sure users would ignore.
If such a fear were to come true, Samsung would need to replace all of Google's apps, including Google Maps, Gmail, YouTube, and most importantly, the Google Play Store itself. Samsung could relatively easily replace Google Calendar (and has basically already done so with TouchWiz), but everything else would be much more difficult to replace. The biggest trouble being the Play Store itself, because if users bought a new Samsung Galaxy device running a forked version of Android, it would be very hard to pass off a new app store.
Samsung has already bit into Google's revenue by pushing its own Music Hub, which takes purchases away from Google Play. And, it seems possible that Samsung could do the same with videos, but completely replacing Google Play means also replacing the book and magazine sections, and of course the app section, which currently offers upwards of 800,000 apps.
That's why we can understand that Google would be monitoring the situation, and may well have bought Motorola to be a "hedge" in case Samsung went rogue, but we're not too sure that there is all that much to be worried about. At least,
there shouldn't be too much concern about Samsung forking Android
. The company could still exert quite a bit of influence in other ways, and continue to cut into Google's revenue streams with other services and content stores.
source:
WSJ