Motorola intros the Moto Selfie Stick: wood, leather, and a touch of class
6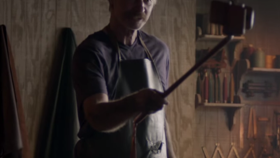 An old legend has it that for every smartphone owner who hates selfie sticks, there are 100 others who constantly use them. Motorola seems to be well aware of this legend, as it just unveiled its first selfie stick, naturally called Moto Selfie Stick.
Now, the Moto Selfie Stick isn't like the other sticks out there. It's assembled by hand, and comes in several variants, including one that's made out of real wood and is dressed in hand-stitched leather (this would make a great pair with that
red leather Moto X
, wouldn't it?). As Motorola puts it, "a selfie stick is not just an accessory, it's an extension of who you are," that's why it's crafting these products as works of art.
So, when will you be able to buy these pieces of art, and for how much? Motorola doesn't say, but the video embedded below (which, we must add, is quite brilliant) is proof that the company is
seriously serious
about the Moto Selfie Stick. Will you get one?