Motorola has patented a solution for deformities in foldable phone displays
4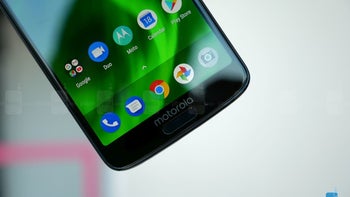 Despite the abundance headlines in recent times that may suggest only Samsung is
working on foldable phones
, Motorola is among one of the many others that are working on prototypes and has now been granted a patent that could fix any potential deformities.

Regardless of the flexible nature of OLED displays, folding them multiple times can ultimately lead to deformities in the flexible area of the panel. This deformity isn't necessarily permanent, but would ultimately affect the user experience, hence the adoption of a new heat-based technology that should allow the flexible areas to be fixed immediately. Specifically, Motorola's patent, which was filed back in 2016, details the presence of a hinge that would include a temperature sensor and a heating element that can be activated in order to increase the temperature of the OLED panel around that area and allow the display to return to its usual position whenever a deformity is registered.
According to
Motorola
, deformities only begin to appear in the OLED panel after it's been folded for a prolonged period of time. Because of this, the smartphone detailed in the patent also includes a special module designed specifically to track if the display is folded or not. Additionally, thanks to the inclusion of a backup battery, the module can record how long the panel has been in the folded position even when the device is switched off. Once it surpasses the predefined time limit, the smartphone display will then automatically enter recovery mode as soon as its unfolded.
Motorola is yet to reveal any working prototypes of the concept detailed in the patent, but the solution certainly looks like something that could work in real-life scenarios. Nevertheless, considering the Chicago-based brand is yet to publicly announce plans to introduce a foldable smartphone that could
take on Samsung
next year, it could still be a number of years before the company makes use of its latest patent.