Motorola XOOM won't support Flash at launch
20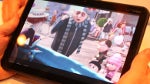 We have a bad news for all these folks who were planning to visit a Verizon store on February 24, buy the Honeycomb-powered
Motorola XOOM
, return home and watch Flash content on their newly purchased powerhouse of a tablet.
And if you can't see the bad news, here it comes - Big Red officially announced (kind of, actually) that the Motorola XOOM won't support Flash at launch. Oops.
You can read the "announcement" if you take a closer look at the poster on the Verizon site teasing the Motorola XOOM tablet - at the bottom left corner it says with a small print "Adobe Flash expected Spring 2011".
This seems to be a reference to the upcoming
Adobe Flash Player version 10.2
, and it's a pity that the soon-to-be Motorola XOOM owners won't be able to taste Flash support in the coming weeks. As of now, we have no info why Adobe Flash Player 10.1 is not present on the Motorola tab.
For a long time, Androiders around the world were quite happy to sneer at their iOS counterparts, saying that the iDevice owners were unable to enjoy the web in the way it should be enjoyed, but it seems this problem is to haunt the upcoming flagship Android tablet - the Motorola XOOM - at least for some weeks.
Are you going to buy the Motorola tablet on February 24?
source:
Verizon
via
Engadget