Motorola Spotlight Player updated with new interactive cartoon, "Buggy Night"
4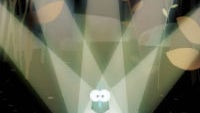 One of the more pleasant surprises for Moto X users a bit after the device was released was the sudden emergence of the Motorola Spotlight Player and its first interactive story "
Windy Day
". The story first appeared as an animated red hat dancing on your display, and now a new story has appeared in the shape of a bug crawling around your homescreen. The new Spotlight story is called "Buggy Night".
"Buggy Night" has a very similar aesthetic to "Windy Day", but rather than follow a mouse through the woods, this time you're following a pack of bugs being hunted by a big frog. The whole story is quite short, it only took us a couple minutes to get through it, but it is an amusing time and would be great for kids. The credit for this story is going to another Pixar animator and artist who worked on "Windy Day", Mark Oftedal.
If you have a Moto X, but don't see the bug, just a reminder that the Motorola Spotlight Player doesn't live in your app tray. Rather, you need to drop the Spotlight widget on your homescreen to get at the stories.