Motorola "Ruth" MB511 may seem like a plain Android handset
This article contains unofficial information.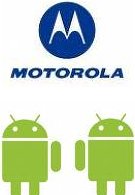 Not everyone requires the extreme hardware found on some of today's high end handsets to provide a decent mobile experience. We've seen almost every kind of Android handset under the sun that targets specific demographics – from the powerful Motorola DROID all the way down to the HTC Tattoo. For Motorola though, good fortunes seemingly enable the company to output plenty of Android devices with their latest handset being discovered – the Motorola "Ruth" MB511. It was unearthed thanks to Motorola's very own user agent profile database and provides some light on what to expect with it. For example, it's not going to be the high or mid-grade level devices we've seen of late like the DROID, CLIQ, or Backflip. Instead it'll most likely target the lower tiered segment with a QVGA display, GSM/WCDMA radio, Qualcomm MSM7200a processor, and ramblings of Android 1.5. Despite any eye opening specs, we hope it'll turn out to be a decent offering that'll be functional at its core for the most basic of users.
source:
Motorola
via
Cell Phone Digest
&
Engadgetmobile