Motorola RAZR to get ICS in early 2012
50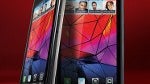 There seems to be a debate over whether the Motorola RAZR or the Samsung Galaxy Nexus is the better phone. As we covered in
our breakdown
of the two, the only real differences are in the screen, the camera, a slight difference in weight, the availability of an SD card slot, and of course in the Android version loaded. The first bunch of points will just have to be personal preference, but the last one is something that will be changing, and sooner than you might have expected.
The Motorola senior vice president of portfolio and product management, Alain Mutricy has said that although the RAZR was designed for Gingerbread, it will get the Ice Cream Sandwich update at the "start of 2012". This is an extremely fast update given that the first ICS phone, the Galaxy Nexus, won't be on the market until next month.
Some may say the speed of this update could be due to the increasingly close relationship between Google and Motorola. But, of course, we know that Google has been
seeding hardware partners with ICS
for months now. Motorola must have had early builds of ICS, and that is certainly helping with the speed of this update. Although, assuming Motorola had ICS builds, it seems strange that Mutricy would explicitly say that the RAZR was designed for Gingerbread. Perhaps the statement was simply in regards to the device having physical buttons.
Recommended Stories