Motorola Moto X vs Samsung Galaxy S4 first look
23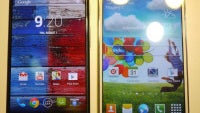 Introduction:
Android is a tough space to be in, which is extremely evident by looking around at the existing set of flagship models that are available. Everyone has their own pride and joy to win over the hearts and minds of consumers all around. So, now that Motorola is back in the mix with its
Moto X
, it surely is going to make for one interesting challenge against another highly respected Android smartphone – the
Samsung Galaxy S4
. It's good to be on top, since that's where some people view Samsung to be at the moment. For Motorola, however, its Moto X really needs to bring its A-game to the table to stand a fighting chance at surviving.
Display:
Considering that the two handsets utilize
AMOLED technology
with their displays, it doesn't surprise us that we're instantly wowed by their super rich color reproduction. However, there's more sharpness and detail found with the
Galaxy S4's 5-inch Super AMOLED display
– thanks primarily to its higher 1080p resolution. In contrast, the
Moto X has a smaller 4.7-inch 720p AMOLED display
, which can't tangle with the S4's higher resolution, but we're astounded by how miniscule the bezels are around its display, making it more compact than what it is. Then again, we can't count out the tech behind Sammy's display – like how its various Air View features enable us to view details with certain elements by hovering our finger over the screen.
Design:
Strangely, we can't say that the Moto X is a giant, since it's super compact for a device that's donning a 4.7-inch display. And at the same time, we prefer how it's more form fitting and comfortable in the hand, thanks in part to its rubbery coating and curved back casing. Likewise, we're also siding with the Moto X when it comes to construction, since it has a slightly more sturdy construction thanks to its closed design. Looking at the Galaxy S4, it's just a handful to operate, but we do appreciate that it's still sporting one skinny profile and lightweight feel – even for a giant. Oh yeah, did we mention that microSD card slot in the S4 is a handy thing to find too?
Interface:
This one is going to be a pickle, seeing that the two Android experiences have their own unique elements that make them stand out. On one hand, some people will adore the
stock Android 4.2.2 Jelly Bean
experience on the Moto X, which strengthens its offerings with key features such as Touchless Control, Active Display, and Quick Capture Camera. Conversely, the
Galaxy S4's TouchWiz Nature UX experience
has its own set of complexities that deepen the experience – like its various S-branded apps, Air View, Air Gesture, Smart Scroll, and many more. It's rather difficult to say what's better, seeing that it'll more than likely depend on personal preference – either that or how practical they are in each persons' lives.
Just because it's essentially a dual-core processing doing the major work for the Moto X, it doesn't mean that it can't produce a performance that's speedy. In fact, the Moto X exhibits a fine level of control and finesse with its performance, which easily rivals what the quad-core processor in the S4 is capable of doing.
Expectations:
Samsung is seemingly on cruise control at the moment, especially when the Galaxy S4 has already proven itself to be one of the most popular smartphones this year. As for Motorola, who once ruled the phone landscape with an iron fist, they definitely have something special in the Moto X. Indeed, it's not a device that's sporting the most cutting edge hardware, but their approach in making it available with every single major carrier in the US can help to popularize its notoriety in the industry again.