Motorola Moto X vs Apple iPhone 5 first look
40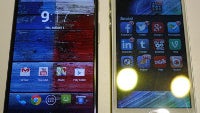 Introduction:
We just got a very
intimate look at the just announced Moto X
, a flagship device from Motorola. Needless to say, it's going to be fighting against some of the greats in the space, and with that in mind, people are going to wonder if it'll have enough power in its punch to dethrone the mighty iPhone 5 from its throne. It's Motorola's long awaited flagship against the iPhone 5, so we're taking a sneak peek at how the two compare against one another.
Display:
From a far glance, we can't deny the fact that our eyes are more attracted to the
4.7-inch 720p AMOLED display of the Moto X
, since its vibrant colors just reels us in much more than anything else. With the Apple iPhone 5, it bears a modest
4-inch Retina Display (640 x 1136 pixels)
that continues to give us colors that are more realistic looking, but for some reason, our eyes still favor the saturated tones put out by the Moto X. Naturally, details are pretty much identical with the two.
Design:
Here's the thing, the iPhone 5 absolutely has the
premium element
on its side, since its brushed aluminum rear casing just delivers that polished quality – whereas with the Moto X, it employs a
rubbery composite frame
. However, the Moto X offers better ergonomics with its curved rear casing, which enables us to grasp the handset in a more natural position. Out of everything, though, we're mesmerized to find that the Moto X is extremely convincing with its overall size, as it's just a smidgen larger than the iPhone 5, which interestingly enough hosts a smaller 4-inch display.
Another item worth mentioning about the Moto X, we like how there's a personalized touched with it as well. Unlike the iPhone, which is only available in black or white, there's an insane level of customization attached to the Moto X. Sure, its construction might not feel as sturdy as Apple's pride and joy, but heck, some people will surely appreciate the options available with
Moto Maker
– Moto's online portal for designing the handset from scratch.
Interface:
Quite frankly, we already know where this is headed. Android continues to show accelerated growth with its functionality – despite the fact that iOS still has some better looking and performing apps than Android. And with the introduction of the Moto X, they're clearly focusing a lot of effort with the experience, as some of its new features really puts it ahead of what Apple has on the iPhone 5 right now. From
Touchless Controls to its Active Display
, there's no denying that the gap is widening even more between these two rival platforms.
They don't sport the most threatening hardware under their hoods, but their processors are effective enough to deliver remarkable performances. In fact, they're able to run most tasks with the same level of finesse and ease – then again, it's hard to distinguish what the Moto X can do at this point, since we haven't spent enough time dealing it with some intensive processes.
Expectations:
Finally, Motorola has a device that can tangle with the iPhone 5's reach, namely due to the handset's upcoming availability with all major wireless carriers in the US. There have been many devices to eclipse the iPhone in terms of hardware and software experiences, but as we've come to see time after time, they still are unable to dethrone it from the top of the ladder. In order to do so, the Moto X requires that balanced set of features and performance to prove that it's a worthy candidate in making the challenge very interesting.