Motorola Moto X to launch with over 300 "M4DE" accessories
3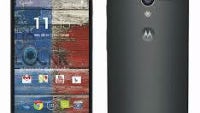 One of the biggest advantages that Apple has had over Android is in accessories. When there is only one new iPhone or iPad, it is far easier for accessory makers to build products for that device. With Android, the problem is much more difficult because there are so many different devices that are different sizes, shapes, or have ports in different spots. Well, Motorola wants to change that with the Moto X.
Motorola has partnered with
12 brands and will launch over 300 accessories
that have been officially certified as "M4DE" for the Moto X. This will include cases, docks, headsets and more from brands that you know like InCase, Griffin, OtterBox, and SOL REPUBLIC. Each accessory that has been officially certified will carry the "M4DE" logo on it.
It seems that a big point will be to be able to
match the color of your accessories with the various color options that will be available on the Moto X itself
. With that in mind, there will be the SOL REPUBLIC Tracks over-ear headphones, and the SOL REPUBLIC Jax in-ear buds that will be available in the full range of colors to match your device. SOL REPUBLIC will also be releasing the DECK, which is a wireless speaker system complete with "Heist Mode" which will allow you to get Nexus Q-like functionality and have anyone nearby be able to control the music playlist.
No word on any other specific accessories, but we're sure we'll hear more as we get closer to the official release.
source: Motorola