Unlocked Motorola Moto G6 is now cheaper than at launch
9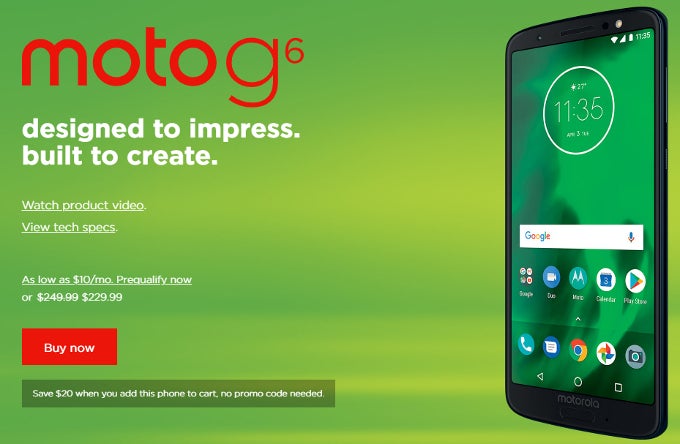 The
Motorola Moto G6
is arguably one of the best sub-$300 smartphones released in the US in 2018. And this is why you may want to know that the handset is currently cheaper than it was at launch (and some months after), being priced at $229.99 instead of $249.99. Of course, that's not a huge price cut, but you're still saving $20 thanks to this new Moto G6 deal.
Motorola doesn't say if this is a limited time offer, so we don't know when/if it's going to expire. In any case, you can find the deal via the source link below.
The Moto G6 that Motorola is selling comes unlocked and is compatible with most US carriers, from Verizon, AT&T, Sprint and T-Mobile, to Google's Project Fi (which isn't a carrier per se, but a mobile virtual network operator). The phone can be bought in two color variants: black and blush.
Currently running Android 8 Oreo, the Moto G6 will certainly be
updated to Android 9 Pie
. New(ish) software aside, the smartphone offers a splash-resistant body, a 5.7-inch IPS display with 1080 x 2160 pixels, a decent dual rear camera, fingerprint scanner, 3 GB of RAM, and a 3000 mAh battery. If you want to find out more about the device, our
Moto G6 review
is waiting.