Motorola Moto G coming to Republic Wireless, $149 no contract
13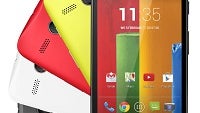 The
Motorola Moto G
has been taking the world by storm. It is packing a ton of features without a heavy price tag. Yes, it lacks LTE connectivity, but in exchange you get stellar battery life and since the Qualcomm Snapdragon 400 CPU does not have to crunch on a heavy user interface, overall performance can keep up the pace.
The Moto G's bang-for-the-buck factor is nicely complimented by its upcoming availability at Wi-Fi-hybrid-cellular carrier, Republic Wireless. Beginning in April, the 8GB Moto G will cost just $149 free and clear.
The 16GB model will cost only $179 with no contract. Pair either of these with Republic Wireless plans, and your monthly bill could be as low as $5 per month (Wi-Fi only plan). There is also a $10 per month plan which adds unlimited talk and text on cellular. $25 per month throws in unlimited everything, Wi-Fi and cellular (data is throttled after 5GB).
The Moto G presumably brings the same solutions that the introduction of the
Moto X brought to Republic back in November
, such as improved Wi-Fi-to-cellular hand-offs. Since Republic's disposition is as a Wi-Fi-first network carrier, you cannot bring your own device to take advantage of the mobile savings. However, $149 for a contract-free device certainly might make the transition easier.
Republic will also offer a variety of color backs for your Moto G (sold separately).
source:
Republic Wireless