Motorola Moto 360 Sport and Fitbit Blaze will be available at Verizon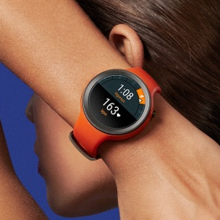 Tomorrow, January 7, Verizon Wireless will start selling the
Moto 360 Sport
- the new smartwatch that Motorola announced back in September alongside the Moto 360 2nd generation.
Verizon will let you buy the Moto 360 Sport for $299.99. As a reminder, the device will also be available from Motorola starting tomorrow, for exactly the same price, so you don't necessarily have to get it from Verizon.
Running Android Wear, the Moto 360 Sport is, as its name suggests, a version of the Moto 360 that's made for active people. It's got all the smartwatch features of the regular Moto 360 2nd generation, plus built-in GPS, optical heart rate monitor, and a bunch of fitness apps. Moreover, the 360 Sport is made out of silicon: it does not absorb sweat, and has side ventilation channels to keep you cool. For more details, check out our
Motorola Moto 360 Sport review
.
Another new wearable device that Verizon is launching is the
Fitbit Blaze
, which was announced this week at CES 2016. This is a fitness and activity tracker, and not exactly a smartwatch, as it doesn't run a proper OS. The Fitbit Blaze features a heart rate sensor, on-screen workout instructions, a (rather small) touchscreen display, music player controls, and a battery that can last up to 5 days. The device can be paired via Bluetooth with many Android, iOS, and Windows handsets. Verizon is already accepting pre-orders for the Fitbit Blaze, which costs $199.99, but it's not clear exactly when the wearable will start shipping.
In addition to releasing the Moto 360 Sport and the Fitbit Blaze, Verizon said that it's now selling the
Fitbit Charge
smartband for $99.99 - down from $129.99. The new price will be valid until the end of January.
Verizon is launching the Motorola Moto 360 Sport and Fitbit Blaze
source:
Verizon