Motorola Lapdock accessories being discontinued per orders from Google?
10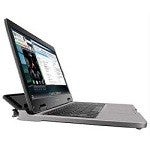 With the new Droid RAZR M, RAZR HD and RAZR HD MAXX not supporting the Webtop application, this may not come as a surprise. Given that the first two versions of the software were fairly limited, Motorola did not do itself any favors. The platform did not allow for any third party innovation, so what you saw was what you got.
The latest version of Webtop was able to take advantage of Android 4.x and its ability to manage different resolutions and render them on the larger screen very well. Unfortunately, that did not counter some of the Lapdock's other obstacles, namely price. These stand-alone empty shells were more expensive than some nicely featured tablets and netbooks. The user feedback generally did not help either, but that can also be attributed to the fact that not many of the docks sold.
When Google closed its acquisition of Motorola, there was to be a "firewall" between the entities, thus allowing their relative autonomy to continue growth and development. Taking that barrier aside for a moment, Google had itself developed ideas about a desktop OS and Webtop was not it. Chrome OS may not be it either, but rather, Android itself.
Sources have told PhoneNews.com this decision came from the top at Google and breached the firewall to Motorola. The result is that apparently Verizon has a fire sale on whatever Lapdocks remain in stock, so there is a small silver lining. The other silver lining is that Google certainly did not throw the baby out with the bath water in making this decision. It is a good idea after all. Other companies are looking to achieve similar, seamless functionality as well.
We may yet see Webtop reincarnated in a future Android release.
source:
PhoneNews.com