Motorola Droid/Sholes to launch October 30th?
4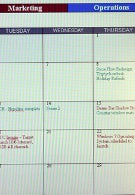 October 30th is considered a rough day in the States. In some cities, the night before Halloween is called "Gate Night" and is met in some locations like Detroit with violence and fires. But this year, October 30th might start a new tradition. BGR found itself with a photograph of a Verizon marketing calendar. The screen shows that the Motorola Droid/Sholes is targeted for a launch on the 30th of October. To prove the authenticity of this leak, we would be more than happy to point out that it shows the correct October 20th launch of the HTC Imagio for all channels (On-line sales
start
tomorrow). If you play your cards right, you might find yourself with a great Android treat in your hand when the 31st rolls around.
Motorola Droid Preliminary Specifications
source:
BGR