Motorola Droid Turbo to receive Soak Test; could a surprise Nougat update be on the way?
2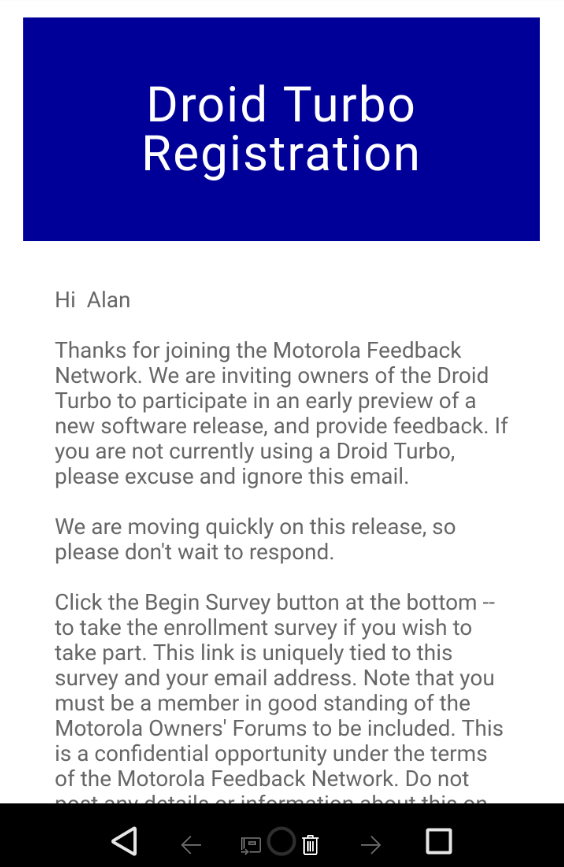 The Motorola DROID Turbo will be put through a Soak Test
The
Motorola DROID Turbo
was quite a well spec'd device when it launched back in 2014. A fine 5.2-inch panel graced the front of the device, carrying a 1440 x 2560 resolution. The Snapdragon 805 SoC was packed inside, bringing a quad-core 2.7GHz CPU and the Adreno 420 GPU. The 21MP rear camera came with an aperture of f/2.0, and a massive 3900mAh battery provided 48-hours of battery life under mixed usage (according to Motorola).
But time started to erode these specs, as time is wont to do. As a result, the DROID Turbo was left off
the list of Motorola handsets due to receive Android 7.0
. The list did reveal that the 2015
Motorola Droid Turbo 2
will be receiving Nougat. And of course, the Motorola built
Nexus 6
has already received Android 7.0 and Android 7.1. That is interesting because the Nexus 6 and the DROID Turbo share many specs. Most of the ones that they don't (camera, battery, screen size) shouldn't matter when it comes to compatibility with a new Android build.
We bring this up because some DROID Turbo members who belong to the Motorola Feedback Network, received an invitation today to participate in a Soak Test for the Turbo. As usual, Motorola did not reveal the build of Android being tested on the device, but did stress that it is moving quickly on this release. Is it possible that DROID Turbo owners are about to receive a surprise in the form of that delicious nougat center?
If you own the DROID Turbo, don't get your hopes up too high. These type of surprises rarely ever happen. Additionally, the fact that Motorola wants to rush this Soak Test probably means that the update contains something less earth shattering than a new Android build. Instead, it might offer a few bug fixes or the latest Google security patch. Still, as the 1980 U.S. Olympic Hockey team taught us, miracles do happen. As soon as we hear something, we will pass it along to you.