Motorola DROID scores a cameo in Scream 4 trailer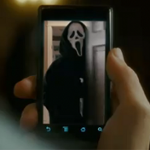 The original Motorola DROID has been long gone from Verizon's line-up, replaced by the DROID 2 and then the DROID 2 Global. But the first-gen Motorola DROID has plenty to be proud of as it was the device that kicked off the current Androidmania craze. And despite having been outspec'd by most new Android models, the handset still retains the good looks that made it Time Magazine's 2009 Gadget of The Year. This is probably why the DROID was given a cameo in the new trailer for Scream 4.
The handset/thespian makes its appearance at the 2 minute mark. Looks like the Motorola logo on the top of the device has been removed. Sure, why give a manufacturer a free plug when they could pay for that pleasure.
Anyway, for those who still proudly own the original Motorola DROID, this must put a smile on their faces. Sure, the old boy might not be able to process things as quickly as those young whippersnappers with their 1GHz chipset and 512MB of RAM, but when it comes to making a big time Hollywood moving picture, the director picked the model with experience, the one who has been around the block a few times. Let's see if this cameo leads to a starring role in the Motorola DROID's next picture.
source:
AndroidGuys