Motorola DROID overclockable to 1.3GHz. Take that, Nexus One!
16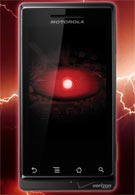 A simple guide on how to overclock the ARM Cortex-A8 processor of your
Motorola DROID
has been posted by areacellphone.com, but it's not your typical guide though. Actually, these guys say you can have your DROID run at 1.3GHz, which is even more power than what the HTC Nexus One provides with its Snapdragon chipset. Now who's got the biggest Android brain out there, eh? Seems like DROID users will get to laugh last, but seriously though, we don't encourage you to toast your device, it's good as it is, right? Plus, Nexus One owners will never have the QWERTY keyboard you have, so you don't need to prove your device is better. Anyway, if you are curious about what will happen, check the source link below for a few steps on how to do it.
Motorola DROID Specifications
|
Review
source:
areacellphone.com