Motorola DROID makes it to the Sunday comics page
8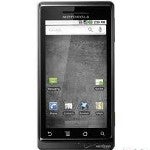 It's always fascinating to see a mention of a specific cell phone model in a pop culture setting. For example, today's episode of the
Dick Tracy
comic strip has a mention of the Motorola DROID. The comic, known for the futuristic two-way wrist radio that its main characters wore back before such technology was possible, is rarely seen in newspapers anymore and instead, has a large online audience.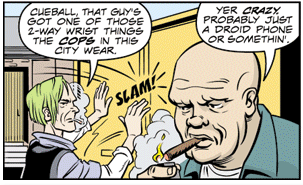 In the current story, Dick Tracy's adoptive son Junior is wearing a new, updated two-way wrist gadget while doing undercover work. One of the bad guys spots it and tells his partner about it. The latter shrugs it off as being "
just a DROID phone or somethin'
". It seems that the bad guys aren't really up to date on the latest in smartphone news or else the dialogue might have gone something like, "
Nah, it's just the Motorola DROID 3, which is expected to hit Verizon stores on July 14th
".
Another way to look at it is that criminal is using "Droid" to mean
all Android phones
, something that many people uneducated in cell phone knowledge do. Regardless, it is still a acknowledgement of how smartphones have become a common part of today's lifestyle. After all, as we just
reported
, one out of every three people in the U.S. are currently toting a smartphone wherever they go.
source:
GoComics