Motorola DROID Turbo vs Google Nexus 6 vs Apple iPhone 6: specs comparison
3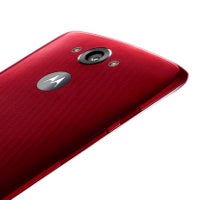 The Verizon-exclusive
Motorola DROID Turbo
is already here, and it is among the most power-laden devices on paper at the moment. Packing arguably one of the best hardware combinations available at the moment, the natural habitat of the DROID Turbo is somewhere near the very top of Mount Android, thanks to the 5.2-inch Quad HD display, the 2.7GHz Snapdragon 805, the 3GB of RAM, the 21MP rear snapper, and the large, "two-day" 3,900mAh battery inside. A true powerhouse indeed, but still, we have to compare it with the latest crop of devices that debuted over the past two months.
The Motorola-made
Google Nexus 6
is one of the latest, hot, and most-anticipated devices that will undoubtedly clash with the new DROID Turbo. Undoubtedly, there will be a bloody battle for the throne in the stock Android segment, as Motorola seemingly outdid what it had accomplished with the Nexus 6 that it made for Google - the Motorola packs the same range of hardware and even more in a more compact offering. Without a shadow of a doubt, late 2014 can't get more exciting for the average devotee of vanilla Android.
Check out our improvised specs showdown between the DROID Turbo and the Nexus 6. Oh, we've also thrown in an Apple iPhone 6 for a good measure.
Oleophobic coating, Scratch-resistant glass, Ambient light sensor, Proximity sensor
Scratch-resistant glass, Ambient light sensor, Proximity sensor
Scratch-resistant glass, Ambient light sensor, Proximity sensor
Apple A8
Qualcomm Snapdragon 805 APQ8084
Qualcomm Snapdragon 805 APQ8084
Dual-core, 1400 MHz, Cyclone ARMv8-A 2nd gen., 64-bit
Quad-core, 2700 MHz, Krait 450
Quad-core, 2700 MHz, Krait 450
PowerVR GX6450
Adreno 420
Adreno 420
128GB, not expandable
64GB
64GB
iOS (12.x, 11.x, 10.x, 9.x, 8.x)
Android (7.1 Nougat, 7.0 Nougat, 6.0 Marshmallow, 5.1 Lollipop, 5.0 Lollipop)
Android (6.0 Marshmallow, 5.1 Lollipop, 4.4.4)
Qualcomm Quick Charge 2.0
24.00 hours
the

average

is 17 h (996 min)
10.4 days (250 hours)
the

average

is 20 days (472 h)
13.8 days (330 hours)
the

average

is 20 days (472 h)
14.00 hours
the

average

is 19 h (1110 min)
3G: 10 hours; LTE: 10 hours; Wi-Fi: 11 hours
Single camera
Single camera
Single camera
8 MP (Sapphire crystal lens cover, PDAF, BSI sensor)
Aperture size: F2.2; Focal length: 29 mm; Sensor size: 1/3"; Pixel size: 1.5 μm
Aperture size: F2.0
Aperture size: F2.0
1920x1080 (Full HD) (60 fps), 1280x720 (HD) (240 fps)
3840x2160 (4K UHD) (30 fps), 1920x1080 (Full HD) (30 fps), 1280x720 (HD) (30 fps)
3840x2160 (4K UHD) (24 fps), 1920x1080 (Full HD) (30 fps)
Time-lapse video, Continuous autofocus, Picture-taking during video recording, EIS, Video calling, Video sharing
Video calling
1.2 MP
2 MP
2 MP
1280x720 (HD)
1920x1080 (Full HD)
1920x1080 (Full HD)
5.44 x 2.64 x 0.27 inches (138.1 x 67 x 6.9 mm)
6.27 x 3.27 x 0.40 inches (159.26 x 82.98 x 10.06 mm)
5.65 x 2.89 x 0.44 inches (143.5 x 73.3 x 11.2 mm)
4.55 oz (129.0 g)
the

average

is 6.5 oz (184 g)
6.49 oz (184.0 g)
the

average

is 6.5 oz (184 g)
6.21 oz (176.0 g)
the

average

is 6.5 oz (184 g)
Touch sensitive control keys