Motorola DROID Turbo 2: 5.4-inch screen, SD-810 SoC, 3GB RAM and 3760mAh cell?
41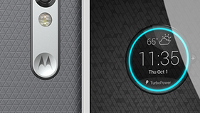 At the time it was released late last year, the
Motorola DROID Turbo
was one of the most highly spec'd Android phones available. With a massive 3900mAh battery inside, Motorola was promising up to 48 hours of mix-use battery life. In fact, after testing,
the DROID Turbo topped our charts showing battery life on flagship devices
.
With the phone getting a little long in the tooth, we would expect a DROID Turbo sequel soon. Just as the
Motorola Moto X Play
is
expected to be branded by Verizon as the Motorola DROID MAXX 2
, there is talk that the unannounced Motorola Moto X Force will be the DROID Turbo 2 on Verizon. This device is rumored to feature an unbreakable display, which would certainly be a great selling point.
If the Moto X Force becomes the DROID Turbo 2, the next flagship DROID model will most likely be equipped with a 5.43-inch "unbreakable" P-OLED screen with a 1440 x 2560 resolution. The Snapdragon 810 SoC will power the device, carrying an octa-core CPU and the Adreno 430 GPU. 3GB of RAM will be inside along with 32GB/64GB of native storage. A 21MP camera adorns the back of the device, with a 5MP snapper in front for shooting selfies and handling video chats.
If this speculation is true, the DROID Turbo 2 will take a slight haircut in battery capacity. The 3900mAh cell on the current model would be replaced by a 3760mAh juicer. Now, this doesn't necessarily mean that there will be a corresponding drop off in battery life. Motorola could turn to optimization to extend the battery life on the second-generation unit.
The current rumor has the DROID Turbo 2 unveiling on October 15th with a launch taking place on October 29th. And here is some exciting news. The DROID Turbo 2 is rumored to be the first DROID that will be available from the Moto Maker web site! And there is more. According to the same rumor, those buying the device through the Moto Maker site will get the ability to perform a free one-time swap within two-years of the original purchase. If you're not happy with the Turbo you designed, you will be allowed one "do-over."
What we are hearing now is that Verizon will be using some of its in-store display space to show samples of DROID Turbo back covers available on the Moto Maker site. One of them will be the Ballistic Nylon material. That is the back we have on our DROID Turbo, and it is a very grippy material that feels great in the hand.
At this point, we would suggest taking these rumors with a proverbial grain of salt. Hopefully, some more information about the Moto X Force and the Droid Turbo 2 leaks in the near future.
source:
Phandroid