Motorola DROID R2-D2 also gets its fill of Gingerbread as well
7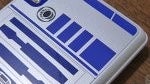 With so many DROID devices gearing up to get Gingerbread finally, it seems as though
Motorola DROID R2-D2
handset owners are now just getting the long time coming software update. Last week, the
uncovered support page
for the Motorola DROID R2-D2 revealed to us that something was coming in the pipelines, but now it's looking like a reality.
Indeed it's only inevitable, especially when the
Motorola DROID 2 Globa
l managed to get Gingerbread not too long ago, but there are reports from those sporting the R2-D2 version that the update is finally hitting their phones. Naturally, some can say that it's an unexpected birthday present or something since the handset is nearing its 1-year anniversary of being on the market.
Nevertheless, we're certain that handset owners will be delighted by this new revelation – still, you might want to manually check for the update if you haven't received that notification just yet.
source:
Android Central