Motorola DROID 2 Global Gingerbread update stopped while R2-D2 variant is ready for its update
2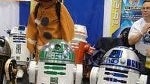 Just the other day, we
reported
that the Motorola DROID 2 Global was at long last
receiving the Android 2.3 update
. As usual, the download started rolling out in phases as a way for Motorola and Verizon to make sure everything was going as planned. Unfortunately, things were definitely not going as planned as a problem developed. Those who were getting the soak-test along with Motorola employees noticed a problem.
According to the Forums Manager on the Motorola Support Forum, the discovery
involved a Microsoft Exchange encryption issue
. Those updating their DROID 2 Global are getting an error message saying that they need to encrypt their phone, but that there is not enough memory to do so. The good news is that apparently, the Motorola team knows exactly what the problem is and will just need some time to fix it.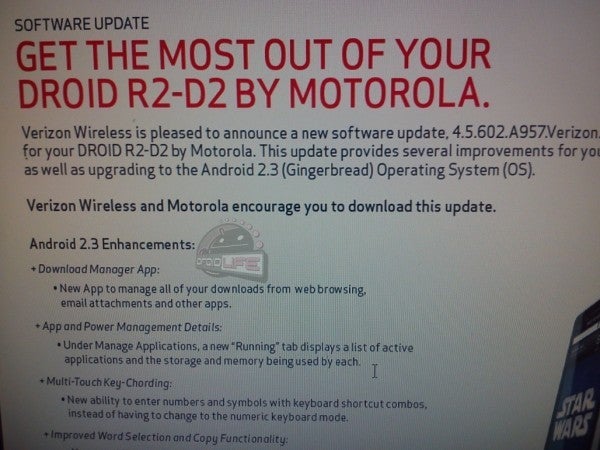 Support Page for the Motorola DROID 2 R2-D2 update
Remember the Motorola DROID 2 R2-D2 Special Edition model? The idea seemed so cool at the time, nonetheless, those who still own the phone will be
receiving an update soon to Android 2.3
. The update will also bring a new Download Manager so you can manage your downloads, e-mail attachments and apps. Under "Manage Applications" you will be able to see a running list of open applications and the storage and memory used by each one. When typing, new multi-touch shortcuts will let you punch in numbers and symbols without having to change to the numeric keyboard mode. There will also be improved word selection and copy functionality.
The fact that Verizon has put up a support page for the update hints that is will be coming soon. You can see if it already hit your phone by going to
Settings>About phone>System updates.
Verizon hasn't revealed whether or not there will be a soak-test with this update, but we would imagine that the download will feature the
usually staggered release dates.
Just drop us a comment when the Gingerbread update hits your Motorola DROID 2 R2-D2 Special Edition and we'll promise not to tell Darth Vader where you are hiding.
source: DroidLife (
1
), (
2
)

The Forum Manager on Motorola's Support Forum says that thew Gingerbread update for the Motorola DROID 2 Global has been halted
Recommended Stories