Motorola DROID R2-D2 Special Edition gets update
14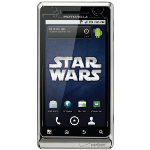 A long time ago in a galaxy far, far away Verizon launched a smartphone that paid homage to one of the Droids in Star Wars, R2-D2. The Motorola DROID R2-D2 Special Edition was
basically a Motorola DROID 2 with a special paint job and a $50 higher contract price
. This device seems ancient now, but the good news is that
there is an update coming to fix some bugs
. No, this is not Ice Cream Sandwich. The closest this phone will get to Ice Cream Sandwich is if you drop it in your grocer's freezer on a box of Eskimo Pies.
Since 2 years have not gone by since the phone launched, we imagine that some of you still have this phone and that it might take a Jedi mind trick for you guys to believe that you have the most up to date specs on your phone. If you can hold on for just a few more months, the force will be with you as your contract expires making you a free agent, able to get the
latest and greatest model for a subsidized price
.
source:
Verizon
via
AndroidCentral