Motorola DROID MAXX 2 hands-on
8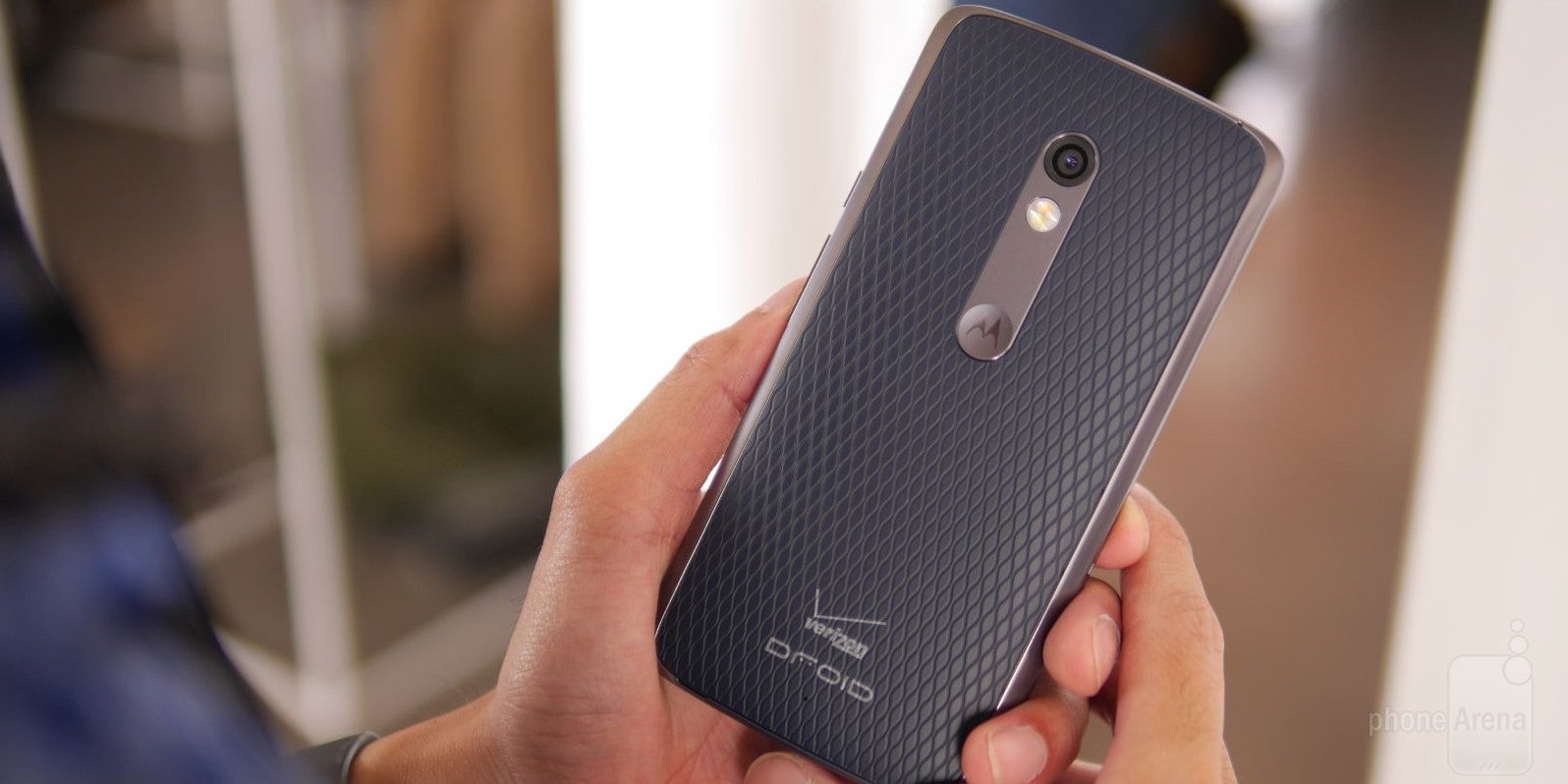 Verizon isn't just getting one exclusive from the land of Motorola, but rather two phones with big batteries. While the DROID Turbo 2 may have stolen Verizon-Motorola's event earlier today in New York City, we shouldn't overlook the DROID MAXX 2 either at the same time. And why's that? Well, partly because it's a phone that's all about "max value" in the mid-range category.
Design
Holding the DROID Turbo 2 and DROID MAXX 2 side-by-side, it's really hard to differentiate the two, mainly because they employ nearly the same design language. What set the DROID MAXX 2 apart, however, is that it's a little bit easier to handle with the hand – due to its slightly smaller footprint, offering effortless one-handed operation in the process. Another difference is the fact that it features replaceable back covers, which gives it flexibility in quickly being able to change up its looks. Besides that, it looks very similar to its beefier spec'd sibling. It should be note, too, that it's essentially another variant of the Moto X Play.
Display
Due to its mid-range attachment, the DROID MAXX 2 is armed with a 5.5-inch 1080p IPS LCD display, which still makes it more than effective in producing good details. We honestly have no complaints from what we can see so far, as it delivers a potent mixture to its package – like its strong luminance and natural looking color tones. Of course, we're eager to see how going with IPS-LCD affects it battery life, especially when the Moto X Pure Edition just didn't have the longevity with the same display technology.
Interface
We won't go into incredible detail about the DROID MAXX 2's Android experience, just because there's one thing that seared into our head just checking it out briefly. That, folks, is the fact that it's running on Android 5.1.1 Lollipop. For a new phone and all, it really would've been more compelling to see it running Marshmallow, especially when another recently announced mid-range phone, the HTC One A9, is coming to market with the fluffiest version of Android.
Despite that, there doesn't appear to be anything drastically different with the experience here, as it looks and feels almost identical to last year's custom experience with the DROID Turbo. We continue to see that in the form of the weather widget on the homescreen, which has been a constant figure in Verizon's DROID line. Beyond that, it clearly shares many similarities to the Moto X Pure Edition – like how we can twist the phone a couple of times to launch the camera app.
Processor and Memory
Powering the DROID MAXX 2 is Qualcomm's latest processor, the Snapdragon 617 SoC, which interestingly enough is the same chip in the HTC One A9. This octa-core configuration is paired with 2GB of RAM, giving it enough superficial responsiveness for basic things from our cursory look. However, if the HTC One A9 is any indication, we're a bit skeptical about its graphics processing performance. Again, however, we'll have to do some further testing to validate our concerns.
Available as a 16GB model, there's room for expansion because it comes equipped with an always handy microSD card slot.
Camera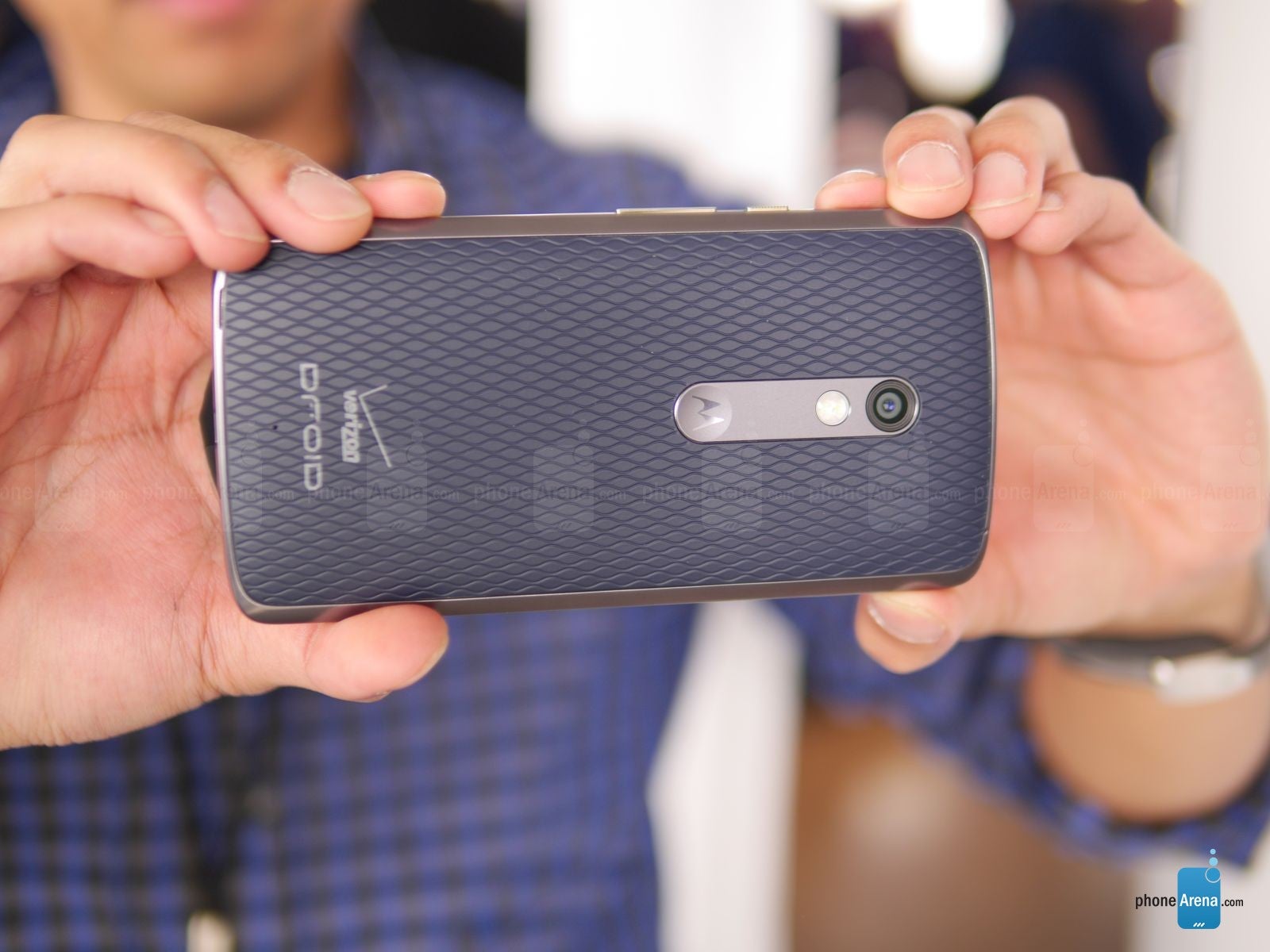 Paired with a 21-megapixel rear camera, which features an f/2.0 aperture lens and a dual-tone LED flash, it's certainly not afraid to get people drooling. Considering that we've seen satisfactory results from the Moto X Pure Edition already, we're hoping that this produces just a smidgen better images to indicate that it's the best-of-the-best from Motorola's camp. For those selfies, however, there's an ample sized 5-megapixel front snapper that's there ready for the occasion.
Like we said, we can twist the phone while holding it to instantly launch the camera. It's a feature we've come to enjoy using with Motorola's line of devices, but we're still waiting for a tremendous overhaul to the camera app. Essentially, it's the same one we have in the Moto X Pure Edition – one that's straightforward with its approach, but lacks the diversified shooting modes and a real manual mode to compete against other camera greats.
Expectations
Between this and the DROID Turbo 2, the obvious differences might point to its specs sheet, but more importantly, their costs are going to be huge driving factors to motivate people to buy one over the other. Of course, if you happen to be on a budget, the DROID MAXX 2's full, outright cost of $384 absolutely looks more appealing than the $624 cost of the DROID Turbo 2, but it doesn't have nearly the same heavy-handed specs sheets as its sibling.
Then again, there's some love here with the DROID MAXX 2, especially factoring that it's packing one beefy sized 3630 mAh battery under the hood. And when you take its smaller sized 5.5-inch 1080p screen and power efficient Snapdragon 617 chip, it might prove to be even more long lasting with its battery life. Only time will tell!