Motorola DROID 4 hands-on
23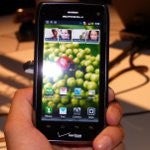 Ending 2011 with a boom thanks to its impressive Motorola DROID RAZR, it seems as the veteran handset maker isn't slowing down for a mere moment in
building up its lineup for the 2012 yea
r – and that's exactly what we're seeing here at CES. As we all know, the original Motorola DROID came storming onto the scene bringing Android to the mainstream. After seeing three iterations, we're quickly gearing up for a fourth installment in the aptly named
Motorola DROID 4
.
To tell you the truth, the Motorola DROID 4
looks exactly
like the DROID RAZR – but with a landscape sliding QWERTY keyboard. In closed form, we notice the same angular corners that made the DROID RAZR and PHOTON 4G stand out, but rather than finding some premium choice materials, it's simply constructed out of
plastic
, a tough one at that. Opening it up to expose its keyboard, which still seems to be a manual mechanism, we're greeted with its spacious
5-row QWERTY keyboard
. Yes, the buttons are rather flat, but their nice size and spot-on tactile response make it a wonder to type out messages.
Going with a
4" qHD (540 x 960) display
, it naturally provides for some sharp looking details to make even fine text very distinguishable to the eye. Unfortunately, it doesn't feature an AMOLED panel like the DROID RAZR, but rather, it seems to be none other than a typical LCD display though. It's nice, but doesn't quite come off as compelling as an iridescent AMOLED display.
Of course, dual-core processors aren't necessarily new since the DROID 3 featured one, but this time around, it's a
1.2GHz TI OMAP 4430 processor
running the show. Not surprisingly, it seems operate relatively quick with the customized MOTOBLUR interface running on top of Android 2.3 Gingerbread. Frankly, we're seriously praying that it'll be blessed with an update to Ice Cream Sandwich relatively quickly, but then again, some of us won't mind that much. One of the biggest complaints about the DROID 3 was its lack of 4G LTE, but of course, this one comes to the table bringing the speedy connection right from the get-go.
If there's one thing we like about the DROID 4 over the DROID RAZR, it has to be that it's easier to handle because it's not as massive in size – though, it adds some thickness to its body. Still, it's obviously warranted considering it's tucking away that always useful physical keyboard. Unfortunately, Verizon has yet to
announce its pricing and availability
, so we simply have to play the waiting game at this point.