Motorola DROID 3 drops to $99.99, makes you really wonder how much the DROID 4 will cost
12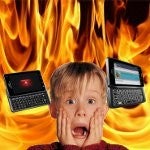 We all know the routine by now, the new device is announced, while its predecessor normally receives a justified price reduction in order to ship units out of the store to make room for the new guy in town – it's simply the way of the game in the phone industry!
Rightfully so, that's exactly what we're seeing with the
Motorola DROID 3
, which recently was dropped to
$99.99
with your signature with a 2-year contract. For the price, it easily moves into the price category dominated by mid-range devices and will entice those looking for a decent high-spec'd smartphone, but aren't located in a 4G LTE location.
Now that's all fine and dandy making the DROID 3 more than buyable at this point, but it does kind of allude to the pricing we might see with the
Motorola DROID 4
. Although we managed to get some
hands-on time at CES
with the upcoming device,
Big Red has been hush
about announcing its pricing – though, seeing that this is packing 4G LTE connectivity sometime, once can assume for it to follow in succession to other devices. Meaning, it could easily go for $250 or $300 with a contract, but then again, it doesn't seem to be as premium in terms of offerings and quality over the DROID RAZR.
source:
Verizon
via
IntoMobile