Motorola DROID 3 Unboxing & Hands-on
18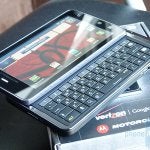 Nearly eleven months after the Motorola DROID 2 arrived on the scene, we're finally seeing its successor in the marvelous
Motorola DROID 3
– the latest member to follow in the footsteps of the beloved DROID family. Much like most successors, it's obviously expected to sport the usual upgraded specs and whatnot, but surprisingly enough, Motorola is really cranking things up a few notches as the Motorola DROID 3 thunderously takes some commanding presence. Radiating magnificently from afar, this is one handset bringing back that good old fashion DROID DOES personality that catapulted the original into the limelight.
Taking into account its larger frame versus its previous predecessors, we're utterly at a gaze seeing one compact looking packaging for this mighty Android
2.3
Gingerbread powered smartphone. Flaunting that all too characteristic DROID box design, with its metallic like carvings and all, we're greeted with two images of the handset that fully show off the handset in its open and closed form. Nope, there are absolutely no specs information found whatsoever on the box, but instead, we only find its packaging contents on one of its sides – still, you seemingly know that the Motorola DROID 3 isn't messing around. Needless to say, we're not all too thrown back to find the usual set of stuff inside the box. Specifically, we find the traditional set of documentation, microUSB cable, and wall charger – and yeah, those are the only things in there folks!
Can you say wow?! As we know, the Motorola DROID 2's design over the original wasn't all that revolutionary, but rather, it approached it with the usual evolutionary steps. This time around though, we're presented with a much
larger looking
device than before, which is primarily attributed to its 4" display – though, it manages to keep things streamline at 0.5" thick. Constructed out of this durable feeling gunmetal plastic exterior, it manages to keep things relatively balanced with its weight. Moreover, the soft touch rear surface in the back essentially enables the handset to have a
smooth feel
in the hand – while doing its best to repel any dirt and debris from caking on.
Continuing to utilize that all too familiar
manual sliding mechanism
to expose its keyboard, we're amazingly impressed with the updated 5-row QWERTY keyboard. At its core, it retains the original's layout with its
boxy and flat looking keys
, but upon pressing down on them, we're blown away with its undeniably
clicky response
– and in fact, it's by far the best keyboard we've checked out of late! Adding to its potential is the dedicated row for numbers, with the navigational buttons intact to get that pesky cursor into place. We've seen some awesome landscape keyboards before, like the ones on the HTC Touch Pro 2 and T-Mobile G2, but Motorola's keyboard on the DROID 3 just might take the cake!
Besides its physical appearance, there's plenty to love with this high-caliber smartphone – even despite the fact it doesn't operate on Big Red's glistening 4G LTE network. Nevertheless, it packs a wallop in many aspects with its 4" qHD display, dual-core 1GHz TI OMAP 4 processor, 512MB RAM, 8-megaixel auto-focus camera with LED flash, full 1080p high-def video recording, front-facing camera, 1,540 mAh battery, 802.11 b/g/n Wi-Fi, Bluetooth
2.1
with EDR, aGPS, 16GB internal storage, and Android 2.3 Gingerbread. In terms of platform experience, it's running a customized interface that's laced with plenty of gorgeous looking eye-candy and 3D effect – thus, vastly separating itself from MOTOBLUR and its variants. All in all, it's shaping up to be one monster of a smartphone either way, and we're eager to check this one out.
Currently, you can pick up the handset through
Verizon directly for the usual 2-year on-contract price of $199.99
. Naturally, we'll be checking every nook and cranny to see how it performs, so expect our in-depth review soon!