Motorola DROID 2 specs again, including Froyo from the get-go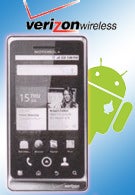 A flier, leaked from Verizon, has confirmed that the Motorola DROID 2 will ship pre-installed with Android 2.2. The 2.2 OS means increased multi-tasking ability with support for 8, rather than 6, recently used applications, as well as Flash Player 10.1 in the browser. It will also offer Wi-Fi hotspot capability.
While the original Droid will receive a 2.2 OTA update, it will not include hotspot functionality, most likely in an effort to boost their sales of newer devices like the DROID 2 and DROID X. We can also look forward to 16 gigs of overall memory, a reported 40% speed improvement in web browsing over the original DROID, and (music to our ears) the same soft-touch coating featured on the Droid X.
source:
Engadget
via
Android Central