Motorola DEFY PRO splashes some ruggedness to the portrait QWERTY form factor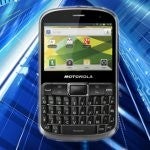 Of late, we've been hearing less about Android powered smartphones relying on the BlackBerry-like portrait QWERTY form factor. Of course,
Motorola
isn't afraid of getting its feet with its own offerings, much like what we've seen in the past already with the Motorola DROID PRO and its many variants, but this time, they're making some additional tweaks with its latest offering.
Although it's not mentioned at the moment that it'll be making a landing in the US, there's no arguing that some people will take a liking to the
Motorola DEFY PRO
. In fact, aside from its obvious
portrait QWERTY form factor
, the DEFY PRO stands out for its
ruggedized construction
. Essentially, it's yet another offering from Moto's "
Lifeproof
" line of handsets, which are semi-rugged devices that can withstand the usual set of punishment.
Specifically, the Motorola DEFY PRO is
water-resistant, dust-proof
, and offers Corning's scratch-resistant Gorilla Glass to protect its 2.7" touchscreen. Of course, its portrait QWERTY keyboard is also another standout feature of the handset, but in addition to that, it features a 5-megapixel camera with flash, Wi-Fi, GPS, Bluetooth, microUSB port, and a microSD card slot. As for the software running on the phone, there are
three user profiles
that can be selected – with each one modifying the homescreen and the way you access apps.
Currently, the Motorola DEFY PRO is slated to launch in
Brazil
starting on
July 15th
, so if you're interested in this one, you'll need to think about a plan on how to import it. Then again, it's always possible we might see some kind of variant hitting our shores in the future, but until we get confirmation, we can do nothing more than drool at this from afar.
source:
Motorola