Motorola CLIQ 2 Unboxing
3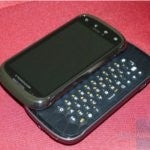 During the hustle and bustle atmosphere surrounding CES, it's rather difficult in getting some personal time with handsets on the showroom floor – especially when they're dirtied up by smudges and tethered down to the teeth by cables. However, we've recently picked up our review unit of the Motorola CLIQ 2 for T-Mobile and got some additional time checking out the upcoming Android powered smartphone. Naturally, it's a bit easier going through a handset without the constant bombardment of voices and noise from all around.
We've already got in our cursory
hands-on time with the handset during CES
, but we've taken some additional steps now to perform an unboxing – which can be checked out from the video below. To reiterate our initial impressions on the device, the Motorola CLIQ 2 follows accordingly to its predecessor in terms of form factor, but you can clearly gauge that more attention is placed on its overall design and construction. Packing on a unique looking landscape sliding keyboard that has
distinguishable honeycomb layout
, we're still finding buttons rather stiff to the touch. However, we'd imagine that after some usage, its response will better adapt to our liking.
Hiding a
1GHz processor
underneath the hood, it appears acceptable enough in navigating around its customized
Android 2.2 Froyo experience with MOTOBLUR
. Were you expecting to see something new or entirely different in that regard? Regardless of whether or not you're a fan of this skin, it seems for the most part to run smooth without much problems from our initial checkup. Naturally, we'll be placing the device through our normal stressful routines and you can check back here very shortly for our full in-depth review.