Motorola ATRIX 4G benchmark results
8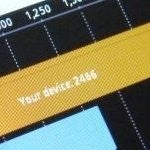 We've already checked out the impressive
benchmark results put up by the Motorola XOOM
, but when you're given the prestigious title of being "
the world's most powerful smartphone
," there's a lot at stake in backing up those strong words.
Thanks to its zippy
1GHz dual-core NVIDIA Tegra 2 processor
chugging along under its hood with
1GB of RAM
, we've seen the Motorola ATRIX 4G fly by in almost every action we placed it through in our review, but now it's time to get down and dirty with actual benchmark figures.
Specifically, we ran the
Quadrant Benchmark app
a few times which yielded results between 1900 and 2400, but with our last test, we managed to obtain a stunning score of 2466. Finally, we decided to run the
AnTutu System Benchmark
, and it posted the following: Memory 348, CPU Integer 673, CPU Float 481, 2D Graphics 149, 3D Graphics 159, Database I/O 30, SD Card Write 83 (8.3 MB/s), SD Card Read 160 (16.0 MB/s). However, it's worth noting that we used a 1GB microSD card for the test.
All in all, it definitely packs quite a wallop that will give other devices a run for their money – but we'd only imagine how much better it will be with Gingerbread. So what have you gotten with your Motorola ATRIX 4G?