Moto says no no to Win Mo 7 in 2010 - Android love only
This article contains unofficial information.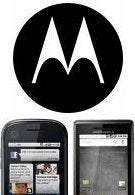 Slowly and steadily more information about Microsoft's Windows Mobile 7 platform is coming around, but it seems that it's not generating the kind of wow factor that we saw previously when Android and WebOS were announced. In the past we've witnessed Motorola having a great relationship with Microsoft – and of course who can't forget about the Motorola Q smartphone. We're unsure as to what could've happened along the way to see Motorola alienate itself from Windows Mobile to only see it form an alliance with Android of late. There's no question about how successful that partnership with Android has managed to bring Motorola back its former glory, but now it seems somewhat apparent that they're distancing themselves from Microsoft. CNET Asia was able to speak with Spiros Nikolakopoulos, vice president and general manager for Asia Pacific and International Distribution of Motorola's Mobile Devices business, where he mentioned information about smartphones that would be released in 2010. Spiros said "There will be between 20 and 30 smartphones globally and, at this moment, all of them will run Android. Naturally, not all will be available everywhere as it depends on the company's partnership with the various telco operators in each country. For non-smartphone models, they will either run Brew or Motorola's own operating system." So there you have it – either Windows Mobile 7 doesn't seem too compelling enough or that Android would seem more likely to return a financial gain for the company. The great thing about the mobile industry is that support for the development of future platforms won't kick in too heavily until its introduced officially – let's just hope that Microsoft does its part by really wowing everyone from the start; maybe then Motorola will have a change in heart down the road.
source:
CNET Asia
via
wmpoweruser