Moto Z price said to be lower than a flagship Apple iPhone and Samsung Galaxy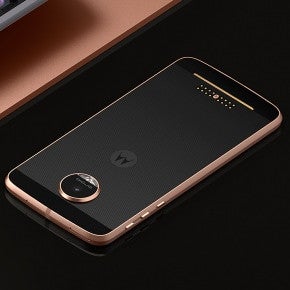 Lenovo just dropped a bomb by announcing two radically new phones with support for true modularity via snap-on magnetic attachments.
The two are a pair of 5.5" Snapdragon 820 phones: the
Moto Z
, a light and super thin, 5.2 mm phone and the
Moto Z Force
, a phone with a shatter-proof screen and larger-than-average, 3500 mAh battery.
But one question remained without an official answer: what is the official Moto Z price?
Lenovo did not say anything: after all, the phones are coming in three months time, in September.
Lower price than of flagship iPhones and Galaxies
Nonetheless, insightful blogger Nixanbal from Bulgaria, one of the countries, where Lenovo will be selling the new Moto Z, revealed an interesting detail: the Moto Z price should be lower than the starting price of a flagship product from the likes of Apple iPhones and Samsung Galaxy. The information is allegedly coming from sources with inside knowledge of the situation.
The official full retail price for the new iPhones and Galaxies stands at $650-$700, so the Moto Z price should be below that. How much exactly? Those details are not available yet, but here's to hoping that Lenovo prices this right to really spur excitement for this quite interesting new modular design.
What about the price of the Moto Z Force? That one seems to be a more premium option that could be closer in price to those flagships, but there are no specifics about it.
Keep in mind, that all of this should be taken with a grain of salt: it is not official info and should be considered early, non-final and subject to change.
source:
Nixanbal
(unfortunately no translation of the video is available)