Moto X will start at just $349 off-contract on Cyber Monday
43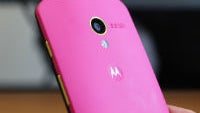 If you've been waiting on the Moto X, the time to buy is coming. Cyber Monday is kind of a pointless marketing ploy these days since most websites run deals the entire week of Thanksgiving, and have the best deals on Black Friday, but in this case we're willing to overlook that because this is a really good deal. On Cyber Monday, the Moto X will be starting at just $349.
Motorola will be offering the Moto X at $150 off for the full price models on Monday, and that includes the fully customized Moto Maker versions. That means the 16GB models will cost just $349, and the 32GB models will be $399. Given that all of the major carriers are now in on the Moto Maker customization, everyone can get exactly what they want.
While the specs on the Moto X may not match up with the Nexus 5, but the Active Notifications, Touchless Control, and customization options (not to mention the Moto X is actually in stock, while the Nexus 5 is on a delay), the Moto X is still quite a solid choice.
Recommended Stories