Moto X bamboo back is finally available for $100 extra
18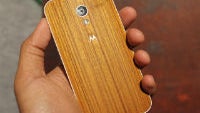 Just as we
expected
, the wooden backs are hitting the Moto Maker software right after the last Moto X holiday deals have been claimed. The second holiday deal happened on December 9th, and those that were lucky enough to get a promo code had one week to order their devices, meaning the last orders would have come in yesterday. So, today is when Motorola introduced the first wooden back.
The first wooden option available is bamboo, which brings with it a $100 premium and also a shipping delay that will take close to three weeks for your device to come through. The other caveat to getting the wooden backing is that while you can order a black front panel, the edge of the back panel around the wood will still be white. You can still choose any accent color you want though, so that's a nice perk.
The new wooden backs will be listed under a new "Natural" section on the Moto Maker. There's no word on when the other options - ebony, cherrywood/rosewood, and teak - will come through, but Motorola has said before that wood will be available before the end of the year. We don't know if that means all wooden options, or just the first, which we've just gotten.