Moto X and G orders delayed because of Winter Storm Dion
30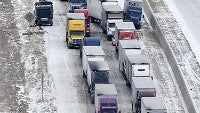 Some of you have reached out to us either saying that your recent Moto X or Moto G orders aren't shipping or are being delayed, or that the Moto Maker website is now showing shipping times of 13 days, which is about two to three times as long as you would usually see from the site. We have spoken to Motorola, and the reasoning is pretty simple: Winter Storm Dion has caused absolute havoc in Texas.
Motorola's manufacturing/shipping facility is located in Fort Worth, Texas, which was slammed by Winter Storm Dion over the weekend. Those of you from colder climates may get the wrong idea, given the usual stereotype that an inch of snow can shut down Texas, but this storm was the real deal and coated much of the area in ice. Motorola said about the storm:
Unfortunately a winter storm is causing hazardous conditions in Fort Worth, where our factory is located. Our top priority is the safety and well-being of our team members, as well as providing the highest level of service to our customers. We are taking steps to make up any lost time, but we anticipate some delays.
It is just unfortunate that Motorola hasn't been on the ball as far as updating customers on the issues. Many have said that they are not receiving update emails from Motorola (some of us included), and order statuses at Motorola.com are not being updated either. If you are one of those customers left in the dark, this winter storm is why orders are being delayed, and the Moto Maker is showing such long ship times because of all of those orders that are piling up. Motorola is revving up to get shipments going out again, now that the weather conditions have improved, and the roads are being cleared.
source: Motorola