Moto X Dev Edition and T-Mobile model get $100 price drops
10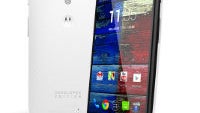 The on-contract Moto X has gotten price drops all around, and now the off-contract models are finally getting price drops as well. All of the Moto X models that are sold directly from Motorola are getting price drops, meaning the T-Mobile variant and both Developer Editions of the Moto X are now $100 less than before.
So, the T-Mobile version which had cost $599 is now $499; and, both the GSM and Verizon models of the Developer Edition are now listed at $549 rather than the previous $649 price tag. These price drops are coming at something of a potential turning point for the Moto X. The device has had a relatively slow adoption rate since its release, and the next couple weeks could prove to be a shot in the arm for Motorola.
The general rumors point to the idea that the other three major carriers in the U.S. are going to get access to the Moto Maker customization tools. Motorola will soon be able to start marketing its main feature - the customization - to customers on all four major carriers. Combine that with an attractive lower price point all around, and it will be interesting to see if Motorola can make any waves this holiday season.