Moto Maker coming soon with more options but fewer carriers
4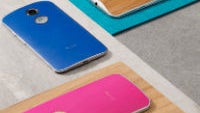 We have heard some things about the Moto Maker, and it looks like they are coming true for better and for worse. The new Moto X is official, which means changes to Moto Maker as well. We are getting one of the new materials that we had been hearing about, and wider availability, but Moto Maker is also not being made available on as many carriers.
As we heard, Motorola is adding in an option for leather, in addition to the wood and colorful plastic options on the Moto Maker. The leather is said to be from the Horween Leather Company, which is one of the oldest leather companies in the U.S., located in Chicago. The leather backs will be available in Natural (aka brown), Congac (aka red), Black, and Navy. The wood options are the same with Bamboo, Ebony, Teak, and Walnut, but this time around Motorola is touting that the wood backs are certified by the Forest Stewardship Council to ensure that it is sourced in an "environmentally-friendly and socially responsible manner".
Moto Maker will once again be available in the U.S., Mexico, and Germany, but it will also be made available in France and the UK, on select carriers. In Mexico, that means Telcel, Orange in France, Phones 4U in the UK, and Phone House in Germany. Unfortunately, in the US, Moto Maker will only be available for Verizon and AT&T officially, although we expect an unlocked version which essentially covers T-Mobile as well. Sorry, Sprint customers.
No word yet on when Moto Maker will be available for the new Moto X.