Moto G7, G7 Plus, G7 Play and G7 Power release date, price, news and leaks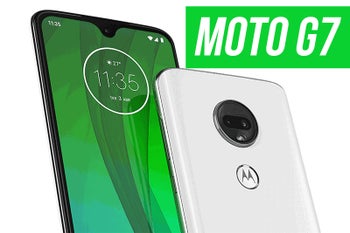 Motorola might not make the flagship phones that people crave, but it excels in a different segment: making the best affordable phones out there with the Moto G series.
Its new
Moto G7
family has now leaked out thanks to... the company itself! Motorola Brazil has accidentally published the official pages of the G7 phones and
CNET in Spanish spotted the photos
and the detailed specs before Moto could pull them off the web, so we know pretty much everything about these upcoming devices. Here is a short summary:
What is special about each one of them and how do they differ? First of all, here is what's common: all G7 series will come equipped with the latest Android 9 Pie on board, all of them will support microSD cards for expandable storage, and all of them will have the good old headphone jack on board.
Curious about the details? Let's start with the specs...
Moto G7 Series Specs Comparison
Moto G7 Play
Moto G7 Power
Moto G7
Moto G7 Plus
Size & Weight
147.3 x 71.5 x 7.99m
149 g
159.4 x 76 x 9.3mm
193 g
157 x 75.3 x 7.92 mm
174 g
157 x 75.3 x 8.27 mm
172 g
Screen
5.7"
720 x 1512 pixels
6.2"
720 x 1520 px
6.24"
1080 x 2270 px
6.24"
1080 x 2270 px
Processor
Snapdragon 632
Snapdragon 632
Snapdragon 632
Snapdragon 636
RAM
2GB
3GB
4GB
4GB
Storage
32GB + microSD
32GB + microSD
64GB + microSD
64GB + microSD
Cameras
13MP rear cam
8MP front cam
12MP rear cam
8MP front cam
12MP + 5MP dual cams
8MP front cam
16MP + 5MP dual cams
12MP front cam
Battery
3,000 mAh
5,000 mAh
3,000 mAh
3,000 mAh
Moto G7 Play
The most affordable in the G7 series
The
Moto G6 Play
was one of the phones with the longest-lasting battery in 2018 in our testing, scoring nearly 12 hours on our screen test, while most flagships average around 9 hours, and it was a two-day experience for most people. This year, however, Moto will change things up and it will have a different model that will focus on battery longevity, while the
Moto G7 Play
is expected to be all about that affordable price.
What this means is that unlike last year's
G6
Play, the G7 Play will actually have a smaller battery: the size will go down from 4,000mAh on the last year's model to a 3,000mAh battery in the G7 Play.
The Play model will also have a big notch styled like the one on iPhones and an HD screen, plus it will be powered by the Snapdragon 632 chip paired with only 2GB of RAM on board. The low amount of RAM might be the biggest concern here, but it's all about achieving a very low price tag, so for some users this might be a worthy trade-off. How cheap exactly? Recent leaks show that this very basic G7 Play model could be priced as low as 150 euro. This should translate to a price of around $150 in the US, where the tax rate is lower and not included in the listed MSRP.
Moto G7 Power
All about affordable price and a huge battery
Part of the reason why the Moto G7 Play is expected to have a rather small battery might be in this phone: the
Moto G7 Power
, where the "power" part refers to a gigantic, 5,000mAh battery cell, but not so much performance.
This is rumored to still remain a budget phone: the list of specs includes the Snapdragon 632 chip, the same one as on the lower-end G7 Play and a far-cry from the flagship-grade Snapdragon 8xx chips.
Again, you have a big notch here and an HD resolution screen, but the amount of RAM goes up to 3GB and the cameras will also be slightly different here.
The G7 Power price has leaked and it is said to be around 210 euro (so expect a similar, $210 price in the US).
Moto G7
The flagship in the budget series
The Moto G7 is what most users will likely be drawn to because it offers the best balance of price to performance in the series.
First of all, it does not have a big notch and instead features a more elegant, teardrop-shaped notch, it has a Full HD resolution screen that will be sharper than the former two models, and it comes with 4 gigs of RAM on board. The G7 will also have double the on-board storage compare to the previous two models, starting with 64GB of preloaded storage.
This phone will also feature a dual rear camera setup that will allow for portrait mode shots and better image quality overall.
And what about the price? It's leaked out to be set at around 250 euro (which should translate to $250 in the USA).
Moto G7 Plus
No-compromise budget phone with the highest price of all
The
Moto G7 Plus
is expected to be the most powerful of the new G7 series. Design-wise, it's expected to look nearly identical to the regular G7, with the differences being on the inside.
First of all, the G7 Plus will be the only phone in the series to have the Snapdragon 636 processor, which is faster, but it will also have a dual rear camera setup with a higher resolution and a more capable front camera, again with higher resolution.
This most expensive phone in the series is rumored to cost some 300 euro in Europe, while in the United States, the price should translate to around $300.
Price and Release Date
The new Moto G7 series are expected to be unveiled first in Brazil on February 7th, while the release date in the United States is expected to happen about a month after that.
Prices will vary, but expectations are that the
Moto G7 Plus
will be the most costly and most advanced in the series, while the other will likely be in the $150 to $300 price range.