Moto 360 not coming until "later this summer"
7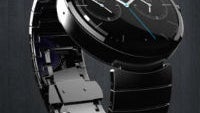 Google dropped some great news in terms of Android Wear today by announcing that the
LG G Watch
and the
Samsung Gear Live
would be made available for purchase through Google Play later today. Unfortunately, the news wasn't as good for those who have been waiting on the Motorola Moto 360. Google said that smartwatch isn't coming until "later this summer".
That kind of vague announcement makes us assume that Motorola is planning to announce the Moto 360 itself, and may even end up announcing the smartwatch at the same time as the upcoming Motorola Moto X+1. The X+1 has been rumored to be announced around the same time as the Moto X was last year, which would mean early August.
That's a long time to wait, but maybe we'll get some good news on that sooner from Motorola.
source: Google