More than half of mobile workers use their smartphone in the restroom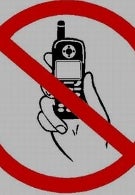 CareerBuilder took a survey of 5,200 mobile workers and found out that most of them use their smartphone every where-and we mean EVERYWHERE. 62% of them use the handsets while eating. That is bad enough, but 57% use the phone while ahem, doing their business in the bathroom. And we are pretty sure that there is no app for that. 54% admit to driving while using their phone. We also get the feeling that population growth will slow down as the popularity of the smartphone increases. According to the survey, half of the mobile workers took their smartphone to bed with them at night. Somehow, this might take some of the romance out of the evenings. One quarter will whip out the smartphone at a movie or play, 18% use it on a date and 17% during their own kid's events.11% will turn on their handset at church.
CareerBuilder's Rosemary Haefner says, "The lines between work and [home] life can be very blurry these days —17 percent of workers said they feel like their work day never endsbecause of technology connecting them to the office. To reduce burnoutand avoid potentially risky behavior, workers should allottechnology-free time when away from work." Sounds like good advice, but first, we just need to check our email.
source:
CareerBuilder