More success seen with Rovio's Angry Birds as it achieves the 140 million download mark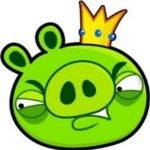 The success train is continuing to move along steadily for Rovio's smash hit,
Angry Birds
, as it plateaued and hit yet another milestone in its never-ending string of successes.
Hitting the
100 million download mark
back in March, Angry Birds just recently surpassed the
140 million mark
and isn't showing any signs of slowing down any soon. Its undeniable success just goes to show the kind of staying power it has, and taking into account all the other numerous titles it has spawned, there is no arguing its sheer popularity at this point. Available on a wide array of platforms that include Android, iOS Mac OS, Symbian, webOS, and Windows PC, it's only going to increase as
Windows Phone 7 will receive its version in late May
.
Looking at the broader picture, Rovio is planning to make a push in the Chinese mark where there's plenty of business to be fetched – especially when it's home to more mobile customers than anywhere else.
via
Mobileburn