More prescription lenses are available for Spectacles, but these ones cost just $29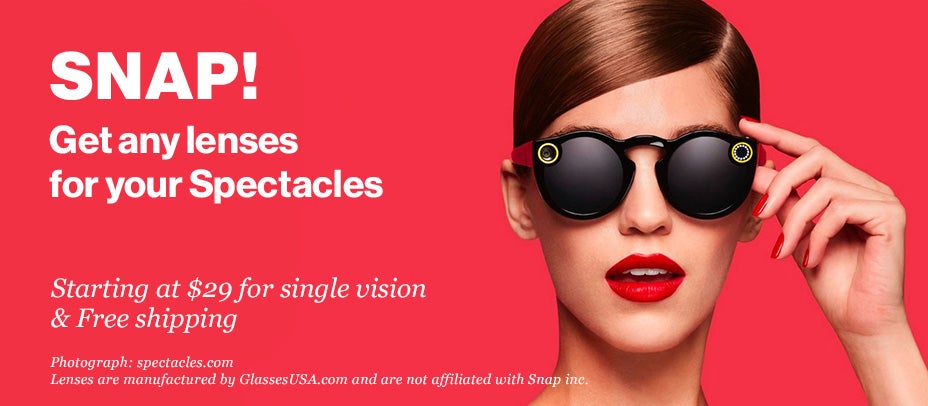 We've seen plenty of unique gadgets this year, but few have created for as much buzz or interest as Snapchat's Spectacles. The Spectacles and their ability to allow you to easily snap and record content for your Snapchat account certainly is an interesting prospect, but the actual act of getting your hands on a pair of them has proven to be quite difficult. Spectacles are currently very limited in regards to their available quantities, but if you do happen to buy a pair, you're faced with a bit of a difficulty if you happen to wear prescription glasses.
Earlier this month,
Rochester Optical announced that they would begin offering prescription lenses for Spectacles
with a starting price of $99. Being able to finally get prescription lenses for the Spectacles certainly was a nice addition, but an added $99 cost on top of the Spectacles' already pricey $299 price tag certainly wasn't the most enticing option. Thankfully, GlassesUSA has introduced their own line of prescription Spectacles lenses, but these ones are much more affordable.
Prescription lenses through GlassesUSA start at just $29.
Prescription lenses for Spectacles through GlassesUSA will start out at just $29, and customers will be able to choose between transition, tinted, reflective, and even computer lenses for the best look and fit possible. The lenses themselves simply snap into place on the Spectacles, making the process of adding them much easier than the Rochester Optical option as well.
GlassesUSA's prescription lenses for Spectacles are available starting today, and you can purchase a set for yourself by heading to the source link below.