More images surface of the Nokia X and its tile UI
35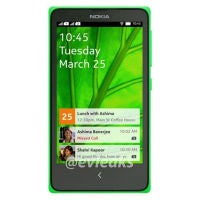 We should be less than one week away from the announcement of Nokia's first Android device, the Nokia X (aka Normandy). We've seen press images and other images coming out of the device, and now we're getting to see a bit more of the hardware itself as well as the custom UI that Nokia has created for Android that makes it look similar to Windows Phone.
As you can see in the pics, the Nokia X will be loaded up with Nokia's HERE maps, and it does have an app store of some sort. We still don't know exactly how that will work, or how many apps will be in it though. Interestingly, it looks like users will be able to resize the tiles in a similar fashion to Windows Phone, because one image shows the Email app with that familiar arrow. There does also appear to be a way to create folders for apps even in the tile interface.
The hardware itself doesn't really look all that interesting, especially in the matte black. It does look like it may be a bit thick, but it's hard to tell in the pictures. One odd thing is that it looks as though there is no flash on the device, because the only thing on the rear of the handset is the camera. We know that Nokia is trying to cut costs, but not including a flash seems like a bad choice.
Stay tuned next week for our MWC coverage, because we are likely to get more info on Normandy then.