More details emerge about Verizon's upcoming flagship Nokia Lumia 928
20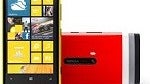 If the latest tips being passed along mean anything, it looks like Verizon will indeed have a distinctive device to offer on the Windows Phone front next month.
Two sources of information are coming together and revealing that the Lumia 928, codenamed "Laser," will also be blessed with an aluminum body like the
rumored "Catwalk" which is said to be on its way to T-Mobile USA
.
For the Lumia 928,
which was leaked to us earlier this month
, in addition to the aluminum body, the camera has been augmented with a
xenon/LED flash arrangement.
The new body will make the 928 lighter and little thinner than its Lumia 920 cousin. The shape of the device may
resemble the Lumia 720
more than the 920. Other internals, such as the CPU and memory are expected to be the same. The Lumia 928 will also support simultaneous voice and LTE.
There is some conflicting rumor information related to storage on the Lumia 928, The Verge is asserting that the device will have 32GB of storage with no microSD expansion, like the
Lumia 920
. A purported Verizon employee is leaking that the device will have 16GB of storage with microSD support up to 64GB. Moreover, the Lumia 928 will have the same color options we have come to expect from the new generation of Windows Phone 8 devices, black, white, red and cyan.
The Lumia 928 is apparently
slated for a release in April
, though no firm date has been offered. Pricing is not official either, but full retail might be $550 and the subsidized price will be $200 unless Nokia works a deal (which is possible given how long the Lumia 822 has been free with a two-year agreement). The tipster also provided some insight about Verizon's excitement over Windows Phone.
"Verizon's going to steer away from Android advertising until the S4 and whatever Moto launches in June. Spring is time for change, and the Z10 and the Windows Phones will be leading the pack.

You would not believe the conversations about Windows Phones that the financial departments are having. They're about $100 cheaper to Verizon than Android phones, and about $150 cheaper than iPhones. This benefit will trickle down soon.

I attended a meeting where the head of finance for a whole region specifically told us to make sure there was a specific reason a customer was NOT getting a Windows Phone. For example, if someone just browses the web and emails, they want that person in a Windows Phone. The phones are just cheaper to the company. Less subsidy and less tech support costs."
sources:
WPCentral
and
The Verge