More Nexus 5 images appear, this time from Russia
33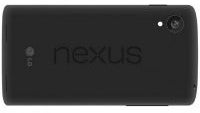 It seems like more and more people around the world are getting their hands on prototype/pre-release versions of the upcoming
Google Nexus 5
, but we still have no idea when the device will be officially announced, and we also don't know when it will be released. This new set of pics comes all the way from Russia, where someone has the Nexus 5 and took a few shots of the outside for us.
The device looks much like it has in other leaks so far. It looks to have a matte rubberized plastic backing that apparently loves to build up fingerprints and smudges. Also a bit disconcerting about these new pics is the state of the Nexus logo on the back of the device. It looks like it has been put through hell, and the logo is faded and definitely not looking so good. Although, at least the logo is there, unlike the earlier prototype we saw in the
7-minute video
over the weekend.
Otherwise, there really isn't much new about these pics. But, with this many leaks coming each day, we have to hope that the official reveal will be happening soon. Given that Google hasn't sent out invitations or anything, it seems unlikely that tomorrow's rumored event is going to happen, unless Google wants to make the announcement without a big event. Google doesn't have its Nexus presenter Hugo Barra anymore, but we still expect the company's flagship phone to get a proper announcement.