Nexus 5 and Android 4.4 shown off in 7-minute HD video
67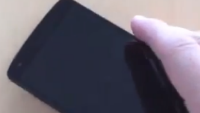 So far, when it comes to the Google Nexus 5 (or possibly the Nexus 4 2013 as it may be called) and Android 4.4 KitKat, we've had to deal mostly with still images or maybe a very short video that doesn't really show much. A new video has popped up that claims to show off the Nexus 5 and Android 4.4 in detail, quite a bit of detail actually as the video is full HD and 7 minutes long. Unfortunately, whoever made the video doesn't really seem to be familiar with showing off a device, because there are still a lot of questions left to be answered.
The hardware looks as we expected it to. We had heard before that the device had a back similar to the Nexus 7 2013, and that looks about right in the video. The back of the device looks like a matte almost rubberized plastic (unfortunately, there is no audio in the video to confirm this). The camera lens on the back looks as big as it has in other leaks, although the video doesn't show the camera in action at all. The camera app is opened, but we don't get to see any pictures taken or the quality of the camera.
The rest of the hardware is what you'd expect: power button and SIM tray on the right side, volume rocker on the left, stereo speakers on the bottom with the micro-USB plug, and the headphone jack on top. One interesting bit that we can't quite place shows up at the 49-second mark of the video. There is some sort of sensor or microphone that is reflecting on the bottom left of the front of the device, but we're not quite sure what that is.
On the software side of things, it looks like the device is running an older build of Android 4.4, because it doesn't have some of the
changes that we saw recently
, like the camera button on the lockscreen, or the new app tray icon. The video doesn't really dig into the system itself or changes there, but spends a lot of time going through the various Google Apps on the device. We'll keep checking deeper, but we didn't see anything on the first run through. If you guys see something interesting, shout it out below!