More HTC Sense 5.0 screens leak, maybe the M7 as well
27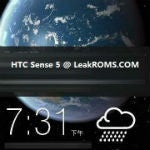 Yesterday, we saw a couple screen leaks that were reported to be the
dialer and keyboard
from HTC's new 5.0 update to the Sense UI, and today we're not only getting a couple more screenshots from the new Sense UI, but we may have also gotten the first leaked shot of HTC's next flagship device, the M7.
As we have heard, the push for Sense 5.0 has been to make the UI more "simple and clean" and we're finally seeing a bit of that with these new screens. The first leaked pic is the lockscreen, and the weather widget definitely shows off a new "simple and clean" design. The app icons on the lockscreen are a bit simplified, but not to the same extent. Similarly, the icons on the settings page are a bit hit or miss. Some look to have been simplified, but others haven't.
The last shot is what is said to be the M7, but it's not the best view of the device. The only thing that we can say is that the bezel doesn't look markedly thinner than other devices we've seen.